December 10, 2014
Tobacco Smoke Toxin May Exacerbate Symptoms of Multiple Sclerosis
the Neurology Advisor take:
Acrolein, a neurotoxin found in tobacco smoke, may accumulate in spinal cord tissue and the bloodstream and exacerbate painful symptoms of spinal cord injury and multiple sclerosis (MS), according to results from a mouse model.
Although acrolein is already often found in the body after nerve damage, the kind seen in spinal cord injuries and MS after myelin is destroyed, researchers hypothesized that inhaled acrolein via tobacco smoke may worsen symptoms of MS by damaging nerve cells and increase pain sensation in spinal cord injury.
During the study, mice were exposed to the equivalent of 12 cigarettes a day over a short period of time. Researchers from Purdue University and Indiana University School of Medicine found that acrolein accumulated in not just the respiratory system but in urine and spinal cord tissue. The level of toxin present in the mice was about 50 times higher than normal.
Acrolein is known to accumulate in urine after years of smoking, but previous studies did not focus on the bloodstream or central nervous system, which is known to be especially vulnerable to acrolein. Hydralazine, a drug approved in the U.S. for hypertension, has reduced levels of acroelin in animal models.
The researchers hope that the mouse model findings will lead to further studies to examine the pathological role of acrolein in the central nervous system across long and short term and active and passive exposures to smoke and other sources.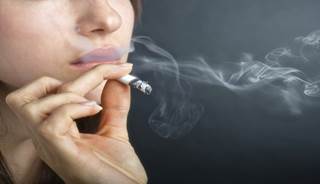 Tobacco Smoke Toxin May Exacerbate Symptoms of Multiple Sclerosis
A neurotoxin called acrolein found in tobacco smoke that is thought to increase pain in people with spinal cord injury has now been shown to accumulate in mice exposed to the equivalent of 12 cigarettes daily over a short time period.
One implication is that if acrolein is exacerbating pain its concentration in the body could be reduced using the drug hydralazine, which has been approved by the U.S. Food and Drug Administration for hypertension, said Riyi Shi (pronounced Ree Shee), a professor in Purdue University's Department of Basic Medical Sciences, College of Veterinary Medicine, and Weldon School of Biomedical Engineering.
Next Article in Neuromuscular Disorders
Sign Up for Free e-newsletters
Check out what's trending
CME Focus