February 20, 2015
Resting-State fMRI May Help Predict Responsiveness to Psychotherapy
the Neurology Advisor take:
Brain imaging may help predict the effectiveness of psychotherapy in patients with major depressive disorder, according to study results published in Neuropsychopharmacology.
Two specific connectivity patterns, between the anterior cortex and middle temporal gyrus and intraparietal sulcus and orbital frontal cortex, observed through resting-state functional connectivity MRI were associated with patients that were more likely to respond to behavioral activation treatment for depression (BATD) compared to patients without the patterns.
Although brain connectivity has long been known to be associated with depression, this is the first time it has been linked to responsiveness to talk therapy. In the future, this method may help eliminate the typical trial and error process that patients currently go through in order to find a helpful therapy.
Gabriel S. Dichter, PhD, of the University of North Carolina Chapel Hill, and colleagues, studied 23 adults with untreated major depressive disorder (MDD) (83% female, mean age, 33.1 years). The subjects all underwent resting-state functional connectivity MRI to examine four networks — the default mode and the dorsal attention, salience, and executive control — and participated in 12 weekly sessions of BATD.
The group's mean Beck Depression Inventory (BDI) score decreased by 12.04 points (P<.001) after treatment. Those with increased pretreatment connectivity between the right insula and right middle temporal gyrus were more likely to respond to BATD, and also had greater changes in BDI scores over time compared to those with less connectivity.
Those with greater connectivity between the left intraparietal sulcus and orbital frontal cortex had improved BDI somatic subscale scores.
The researchers hope to now extend the analysis to different types of psychotherapies and medications.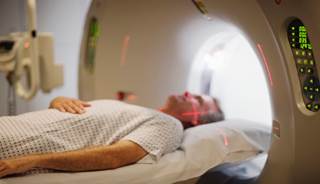 Resting-State fMRI May Help Predict Responsiveness to Psychotherapy
Despite the heterogeneous symptom presentation and complex etiology of major depressive disorder (MDD), functional neuroimaging studies have shown with remarkable consistency that dysfunction in mesocorticolimbic brain systems are central to the disorder.
Relatively less research has focused on the identification of biological markers of response to antidepressant treatment that would serve to improve the personalized delivery of empirically supported antidepressant interventions.
In the present study, we investigated whether resting-state functional brain connectivity (rs-fcMRI) predicted response to Behavioral Activation Treatment for Depression, an empirically validated psychotherapy modality designed to increase engagement with rewarding stimuli and reduce avoidance behaviors.
Next Article in Neuroradiology
Sign Up for Free e-newsletters
Check out what's trending
CME Focus