January 12, 2015
Novel Spinal Implant Restores Movement in Paralyzed Rats
the Neurology Advisor take:
A new type of spinal implant called the e-Dura restored movement in paralyzed rats without the nerve tissue damage caused by similar implants, according to a study published in Science.
Implants like the e-Dura work by sending a specific combination of electrical pulses and chemicals down the spinal cord, which can restore movement after paralysis. Traditional implants work initially, but eventually, the soft tissue in the spinal cord is damaged from rubbing against the rigid implant.
The researchers developed the new e-Dura implant and tested its function in rats that had been paralyzed from spinal cord injury.
The e-Dura is made of material that mimics the shape and mechanical properties of the dura mater; over a 2-month period it did not cause any tissue damage and was not rejected. It's comprised of a transparent silicone substrate patterned with microfluidic channels that deliver drugs, and soft electrodes made of platinum and silicone with stretchable gold interconnects that transmit and transfer electrical signals.
The implant can monitor electrical signals from the brain in real time, which allowed the researchers to see the rats' intended movements before they actually carried them out.
Although the device has only been tested in rats, the researchers have been encouraged by the results and plan on beginning clinical trials in humans. If successful, the implant can be useful in treating a number of conditions, including epilepsy, Parkinson's disease, and chronic pain.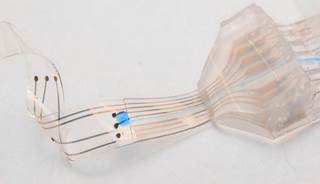 Image courtesy EPFL
In theory it should be possible to implant devices that send the right mix of electrical pulses and chemicals down the spinal cord to restore movement after paralysis. But the practical challenge is finding not only something that functions, but also that matches the soft tissue of the spinal cord.
Spinal injury researchers have tested various types of implants but have reached a roadblock; while the devices perform to begin with, in the longer term the soft and stretchy tissue in the spinal cord rubs against the rigid material.
Next Article in Neurorehabilitation
Sign Up for Free e-newsletters
Check out what's trending
CME Focus