September 24, 2015
Chronic Pain and Tinnitus: What's the Connection?
the Neurology Advisor take:
Sometimes two disorders may not seem like they have anything in common, but perhaps all clinicians need is a little more research to identify a connection.
Published in the October issue of Trends in Cognitive Sciences, a new report concluded that there is an unexpected link between two conditions that reorganize the brain: tinnitus and chronic pain.
Based out of Georgetown University Medical Center (GUMC) and Germany's Technische Universität München (TUM), researchers found that brain abnormalities are responsible for the onset of both disorders.
Neural mechanisms, which typically "gate" or control noise and pain signals, can become dysfunctional, which leads to chronic perceptions of these sensations. The study's authors located the flow of these signals through the brain and identified what should be working normally.
"Some people call these phantom sensations, but they are real, produced by a brain that continues to 'feel' the initial injury because it cannot down-regulate the sensations enough," said Josef Rauschecker, PhD, DSc, director of the Laboratory for Integrative Neuroscience and Cognition at GUMC, in a statement. "Both conditions are extraordinarily common, yet no treatment gets to the root of these disorders."
The areas of the brain responsible for these sensations are the nucleus accumbens and other areas that serve "executive" or administrative roles. Issues that often arise in conjunction with tinnitus and/or chronic pain are also modulated by the nucleus accumbens, Rauschecker said.
"Better understanding could also lead to standardized assessment of individuals' risk to develop chronic tinnitus and chronic pain, which in turn might allow for earlier and more targeted treatment," said Markus Ploner, MD, PhD, a consultant neurologist and Heisenberg Professor of Human Pain Research at TUM, in a statement.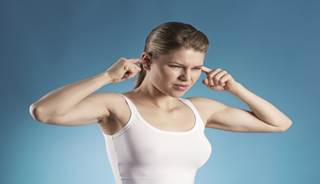 Chronic Pain and Tinnitus: What's the Connection?
A condition that causes a person's ears to ring nonstop and a condition characterized by pain that won't go away may seem worlds apart on the surface, but they may not be so different after all, the authors of a new review said.
In the review, the authors proposed that tinnitus, or ringing in the ears, and chronic pain are the result of similar changes in two regions of the brain.
These regions — the nucleus accumbens and the ventromedial prefrontal cortex — are both in the front of the brain, and may act as "gatekeepers" for sensory stimuli such as noise and pain, the researchers said.
Next Article in Pain
Sign Up for Free e-newsletters
Check out what's trending
CME Focus