November 25, 2014
FDA Weighs Risk-Benefit of Epidural Steroid Injections for Pain
the Neurology Advisor take:
An FDA advisory committee is meeting to discuss the safety and efficacy of epidural steroid injections for pain management.
The FDA has not approved injectable corticosteroids for use through epidural injection. Despite this, patients who have been unable to find relief for back and neck pain through analgesics or surgery have been using injectable steroids to manage their pain.
The growing number of reported adverse effects from these injections, including neurological injuries, has prompted the FDA to look into their safety. The committee will discuss the efficacy and risk-benefit balance of epidural steroid injections for pain management. Topics will include conditions treated, the location of injections, the injection approach, and the formulation of corticosteroids.
In April, the FDA reviewed its adverse event database and relevant medical literature on epidural injections. They ordered a label warning to include the risk of severe adverse events, including death, stroke, permanent blindness, and paralysis. They also recommended that health-care providers discuss these risks with their patients.
In October, the FDA's department of pharmacovigilance published a review of injectable steroids. They found 131 cases of serious adverse neurological events after epidural injections, including 41 cases of arachnoiditis.
The review also found that the use of "particulate" steroids or suspensions was linked to more adverse events than the use of "nonparticulates" steroids or solutions. The results also suggested that transforaminal injections were riskier than interlaminar or caudal injections.
After the 2-day meeting, the FDA committee members will recommend whether or not further changes in class labeling are needed.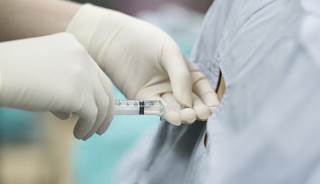 FDA Weighs Risk-Benefit of Epidural Steroid Injections for Pain
An FDA advisory committee is meeting Monday and Tuesday to discuss adverse neurologic effects following the use of epidural steroid injections for pain management.
Finding little relief for back and neck pain from analgesics or surgery, patients have turned to injectable steroids, but increasing reports of "catastrophic consequences," including neurologic injuries, has put the treatment under scrutiny.
Regulators, stakeholders, and pain management experts will gather at the FDA's White Oak conference center in Silver Spring, Md., to discuss the safety of injectable corticosteroids, among other topics.
Next Article in Pain
Sign Up for Free e-newsletters
Check out what's trending
CME Focus