March 09, 2015
Low-Dose Gene Therapy May Relieve Diabetic Neuropathy Pain
the Neurology Advisor take:
A new gene therapy, VM202, may help relieve and even regenerate damaged nerves at the source of painful diabetic neuropathy.
The results of a phase two, double-blind, placebo-controlled study included a more than 50% reduction in neuropathy symptoms and hardly any side effects, according to a study published in Annals of Clinical and Translational Neurology.
Patients received tow low dose rounds of non-viral gene therapy VM202, which contains human hepatocyte growth factor (HGF) gene that helps keep nerve cells alive and functioning. Researchers are continuing to explore whether or not the therapy can help regenerate the damaged nerve cells, in turn reversing the neuropathy.
Eighty-four subjects in total participated in the study. Subjects received either two doses of 8 or 16mg VM202 per leg or placebo at start and again at two-week mark. Patients who received the 8mg dose saw a significant reduction (P=0.03) at three months in mean pain score and continued reductions at the six and nine-month marks, with over 48% seeing a ≥ 50% reduction in pain compared to 17.6% of placebo patients. The therapy seemed to work better on patients that were not taking pregabalin or gabapentin, the researchers noted.
Patients experienced not only a reduction in neuropathy-related pain but also saw improved ability to perceive very light touch; as numbness is an associated condition that contributes to the high number of chronic foot ulcers and amputations in diabetic patients.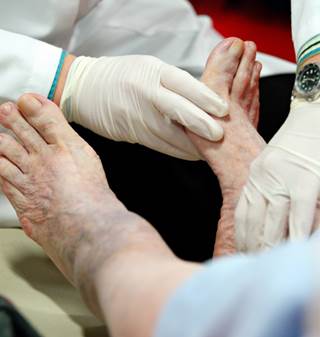 Low-Dose Gene Therapy May Relieve Diabetic Neuropathy Pain
Walking barefoot on sand "felt like walking on glass" for Keith Wenckowski, who has lived with type-one diabetes for more than two decades.
One of the participants in a new Northwestern Medicine study who suffered from painful diabetic neuropathy (PDN), Wenckowski finally found relief from the constant foot pain that required him to wear shoes at all times, even to the beach.
The study found that those with PDN who received two low dose rounds of a non-viral gene therapy called VM202 had significant improvement of their pain that lasted for months.
Next Article in Pain
Sign Up for Free e-newsletters
Check out what's trending
CME Focus