October 09, 2014
Basic Blood Tests Help Diagnose Distal Symmetric Polyneuropathy
the Neurology Advisor take:
Most causes of distal symmetric polyneuropathy (DSP) in patients can be diagnosed by neurologists or with inexpensive blood tests, according to a study published in JAMA Neurology.
Researchers conducted a retrospective cohort study, identifying all patients with a new DSP diagnosis treated by community neurologists in Neuces County, Texas, who met the Toronto Diabetic Neuropathy Expert Group consensus criteria for probable DSP.
The study included 458 patients with DSP followed up for a mean of 435.3 days. In 63.5% of those patients, neurologists identified a cause of DSP before their diagnostic testing. In 15.5% of patients, a new DSP cause was discovered after being tested by neurologists, with the most common new diagnoses being prediabetes, vitamin B12 deficiency, diabetes mellitus, and thyroid disease.
Management changes occurred in 63.1% of cases, usually related to neuropathic pain management. In 24.7% of patients, a potential disease-modifying management change was made, with the most common changes being diabetes management, treatment with vitamins, diet and exercise, and adjustment of thyroid medications. Electrodiagnostic testing and MRI of the neuroaxis rarely led to management changes.
In almost two-thirds of patients, neurologists diagnosed the cause of DSP without any testing. When they did need testing to diagnose DSP, it was through inexpensive blood tests for diabetes, thyroid dysfunction, and vitamin B12 deficiency, whereas expensive testing like MRIs rarely changed patient care.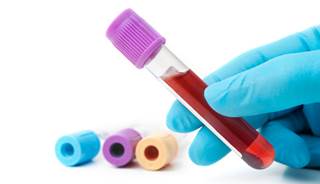 Basic Blood Tests Help Neurologists Diagnose DSP
This study examines the efficacy of other forms of diagnosis of distal symmetric polyneuropathy (DSP), a prevalent condition that results in high costs from diagnostic testing. Often, neurologists can diagnose DSP without a diagnostic test and effectively make changes to disease management.
Brian C. Callaghan, MD, of the department of neurology at the University of Michigan in Ann Arbor, and colleagues conducted the study to determine how often neurologists and diagnostic tests influence the diagnosis and management of DSP in a community setting.
Next Article in Pain
Sign Up for Free e-newsletters
Check out what's trending
CME Focus