September 09, 2014
Role of Neuropathic Pain Relief in Gait Variability in PDPN Diabetes Patients
the Neurology Advisor take:

Relief of neuropathic pain increases variations in gait length and velocity, according to a randomized, double-blind crossover study conducted by researchers from the University of Calgary's Hotchkiss Brain Institute.

The study, which was published in the Journal of NeuroEngineering and Rehabilitation, examined the relationship between diabetes mellitus patients with painful diabetic peripheral neuropathy (PDPN) and gait variability, as neuropathic pain in relation to PDPN often contributes to gait dysfunction.

Researchers used a GaitMeter and related gait and balance tests to measure gait parameters in 19 patients with PDPN before and during analgesia across two six-week active intervention periods of pregabalin and placebo as well as washout periods in which interventions were weaned.

They hypothesized that PDPN subjects would have a decreased gait step variability while receiving pregabalin. "If pain due to PDPN is itself responsible for the increased gait variability, then it could be theorized that reduced pain severity would reduce such variability to levels seen in DPN patients without pain," the researchers wrote.

However, patients with PDPN showed an increased variability in step length and step velocity during pregabalin treatment, with insignificant relief of neuropathic pain as compared with placebo. Analgesia did not decrease, and instead increased, gait variability during pregabalin treatment. Subjects that received the placebo showed an unanticipated decrease in step velocity, but not step length variance.

"Our results suggest that management of pain relief may not improve gait variability in PDPN subjects," the researchers concluded, "although the pregabalin intervention in our trial did not provide significant pain relief limiting full interpretation of this trial's results."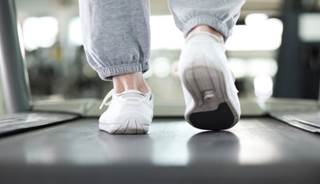 Role of Neuropathic Pain Relief in Gait Variability in PDPN Diabetes Patients
This study from researchers at the University of Calgary's Hotchkiss Brain Institute investigated the role of neuropathic pain relief in decreasing gait variability in diabetes mellitus patients with neuropathic pain. The results of the randomized, double-blind crossover trial were published in the Journal of NeuroEngineering and Rehabilitation.
Next Article in Pain
Sign Up for Free e-newsletters
Check out what's trending
CME Focus