July 07, 2015
Women with Fibromyalgia Less Physically Active, More Sedentary
the Neurology Advisor take:
Women with fibromyalgia are less physically active than those without the disease; however rates of physical activity are also troublingly low among healthy women.
Víctor Segura-Jiménez, PhD, of the University of Granada in Spain, and colleagues studied the levels of physical activity and sedentary time among 413 women with fibromyalgia and 188 age-matched controls. Sedentary time, physical activity, and step count were measured as well as differences in intensities of physical activity, including light, moderate, and moderate-vigorous.
Overall, women with fibromyalgia spent more time in sedentary behaviors than controls (estimated mean difference±standard error = 33±7 min/day, P<0.001), and spent less time performing light (-13±4 min/day, P=0.001), moderate (-17±3 min/day, P<0.001), and moderate-vigorous (-21±4 min/day, P<0.001) physical activity than controls. Women with fibromyalgia also took less steps per day than controls (-1744±285 steps/day, P<0.001).
Surprisingly, only 46.3% of healthy controls met physical activity recommendations of 150 minutes/week of moderate-vigorous physical activity for 10 minutes at a time compared to 20.6% of women with fibromyalgia, and only 44.7% of controls fulfilled the recommended ≥10,000 steps/day compared to 16% of those with fibromyalgia. For both groups, physical activity was more likely to occur during week days than on weekends.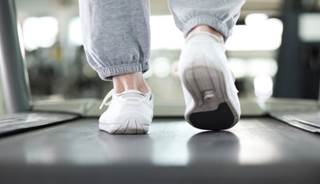 Women with Fibromyalgia Less Physically Active, More Sedentary
In this study, researchers characterize the levels of objectively measured sedentary time and physical activity (PA) in women with fibromyalgia and compare them with age-matched healthy control women.
The study comprised 413 (aged 51.9±7.4 years) women with fibromyalgia and 188 (aged 50.9±7.5 years) controls. Sedentary time, PA and step count were measured by triaxial accelerometry. Time engaged in sedentary behaviors as well as in different PA intensities (light, moderate and moderate-vigorous [MVPA]) were calculated (min/day), as well as the number of steps/day.
Next Article in Pain
Sign Up for Free e-newsletters
Check out what's trending
CME Focus