March 20, 2015
Effects of Breastfeeding on Intelligence Last Through Adult Life
the Neurology Advisor take:
The effects of breastfeeding for prolonged periods of time appear to last well into adult life, according to a study published in The Lancet Global Health.
Researchers followed 3,493 infants from Brazil and found that those exposed to prolonged breastfeeding had increased intelligence, educational attainment, and earning ability until at least age 30.
The benefits of breastfeeding for brain development and intelligence have long been established, as well as its link to reduced prevalence of infectious diseases and mortality. However prior study results have been clouded by differences in breastfeeding habits across socioeconomic classes – a factor that the current researchers addressed with the Brazilian cohort.
The subjects of the study were split into five groups based on time spent breastfed, and controlled for 10 variables including family income at birth, maternal age, and parental schooling. Researchers found that breastfeeding was associated with adult intelligence, longer schooling, and higher earnings, and the longer the subject was breastfed for, the greater the benefits.
Infants who were breastfed for 12 months had four more IQ points, 0.9 years more schooling, and earned $104 per month on average more than infants breastfed for less than one month.
Researchers believe that long-chain saturated fatty acids found in breast milk are key to brain development, noting that the amount of milk consumed seems to be associated with the effects of breast milk consumption.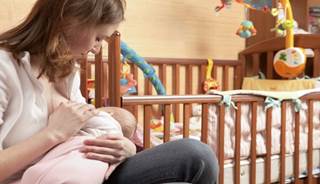 Effects of Breastfeeding on Intelligence Last Through Adult Life
A study has found that prolonged breastfeeding is linked to higher intelligence, longer schooling and greater earnings as an adult. The study suggests that breastfeeding can lead to benefits in adult life such as increased educational attainment and income. The study, published in The Lancet Global Health, followed 3,493 infants born in Pelotas, Brazil.
"The effect of breastfeeding on brain development and child intelligence is well established, but whether these effects persist into adulthood is less clear," says lead author Dr. Bernardo Lessa Horta of Federal University of Pelotas in Brazil.
Next Article in Pediatric Neurology
Sign Up for Free e-newsletters
Check out what's trending
CME Focus