February 27, 2015
Gene Variant May Increase Neuropathy Risk in Pediatric Leukemia Drug
the Neurology Advisor take:
Children with acute lymphoblastic leukemia who have a particular gene variant may be more susceptible to peripheral neuropathy after being treated with vincristine, a popular cancer drug.
Currently, there is no reliable way to predict which patients will be at a higher risk of developing vincristine-induced neuropathy, which is characterized by neuropathic pain, impaired manual dexterity, balance, and altered gait.
Researchers decided to turn to genomic testing to see if there was a genetic variant associated with the neuropathy. Scientists from St. Jude Children's Research Hospital assessed 321 patients with acute lymphoblastic leukemia (ALL) (222 from a St. Jude cohort and 99 from a Children's Oncology Group cohort) that received 36 to 39 doses of vincristine and performed genetic analysis.
Grade 2 (moderate) to 4 (life threatening) vincristine-induced neuropathy occurred in 28.8% of patients in the St. Jude cohort and 22.2% in the COG cohort. An inherited variant of the CEP72 gene was associated with both higher incidence and severity of the neuropathy. Compared to 21% of patients without the gene variant, 56% of those with the variant experienced at least one episode of Grade 2 to 4 neuropathy.
Researchers plan to try to replicate the results in other populations. If they do, the findings could have a great effect on how risk/benefit discussions are handled among families of patients with ALL and may influence the development of a safer dosing strategy.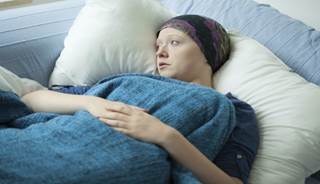 Gene Variant May Increase Neuropathy Risk in Pediatric Leukemia Drug
Children with acute lymphoblastic leukemia who had a certain gene variant experienced a higher incidence and severity of peripheral neuropathy after receiving treatment with the cancer drug vincristine, according to a study in JAMA.
Cancer remains the leading cause of death by disease in U.S. children despite major advances in the last 20 years. Acute lymphoblastic leukemia (ALL) is the most common childhood cancer, and as cure rates have surpassed 85 percent, it becomes increasingly important to lessen the toxicities of treatment that adversely affect quality of life and longevity. Vincristine is one of the most widely used and effective anticancer agents for treating leukemias in both adults and children.
Next Article in Pediatric Neurology
Sign Up for Free e-newsletters
Check out what's trending
CME Focus