January 14, 2015
Sleeping for More Than 30 Minutes May Boost Infants' Memory
the Neurology Advisor take:
Sleep may help infants commit new tasks and behaviors to memory, according to the results of a study published in the Proceedings of the National Academy of Sciences.
The study aimed to better understand the function of sleep in infants, as this relationship is well understood in adults, but has not been studied extensively in children, who spend a majority of their time asleep in the first 12 months of life.
Researchers visited with infants two times either right before a nap or right after. During the first visit, researchers demonstrated a learning task by showing the infants how to remove and play with a mitten on a puppet. Follow-up visits were conducted either four or 24 hours later, and evaluated whether the infants remembered the learned task with the mitten.
Infants that slept for at least 30 minutes within four hours of learning the task remembered how to remove and play with the mitten, compared to infants that did not nap after learning the task, and were not able to perform the task during the second visit. Memory recall seemed to continue to improve 24 hours after for infants that napped after learning the task compared to those that did not. Those that napped less than 30 minutes also were not able to recall the learned task, demonstrating that 30 minutes or less of sleep is not sufficient to convert a task to memory.
The researchers performed the study on 216 healthy infants aged 6 and 12 months.
The results indicate that infants may retain information better when they are tired and right before sleep rather than wide awake. The team plans on expanding on the research by evaluating whether sleep affects the amount of information retained and memory quality.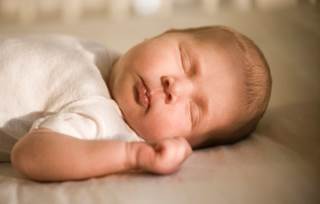 Sleeping for More Than 30 Minutes May Boost Infants' Memory
It seems like young infants spend most of the day sleeping, and according to the National Sleep Foundation, they do. On average, infants aged 3-11 months have around one to four naps a day, each lasting 30 minutes to 2 hours. Now, a new study finds these daytime naps may be key to a child's development, helping them remember newly learned skills and behavior.
The researchers, including Dr. Jane Herbert of the University of Sheffield in the UK and investigators from Ruhr University Bochum in Germany, publish their findings in the Proceedings of the National Academy of Sciences.
Next Article in Pediatric Neurology
Sign Up for Free e-newsletters
Check out what's trending
CME Focus