December 22, 2014
Type 1 Diabetes May Slow Brain Development in Children
the Neurology Advisor take:
Young children with type 1 diabetes may be at risk of abnormal brain development, according to research conducted by the National Institutes of Health.
Although no differences in cognitive function were found, children with type 1 diabetes had significantly slower brain growth than their healthy counterparts, the researchers reported in Diabetes. This is the first time that type 1 diabetes in children has been linked to brain structure development.
Researchers performed MRI scans of the brains of 144 children aged 4 to 9 with type 1 diabetes and 72 matched controls, some of which included siblings of the diabetic children. The scans showed a significant difference in overall brain growth, including gray matter and white matter. The researchers also observed severe variations on blood sugar levels that could be detrimental to brain function.
The findings may affect how children with type 1 diabetes are treated, as historically doctors have recommended maintaining a higher than average blood sugar level instead of a below average level because of the association between low blood sugar and seizures. However, the findings show that chronic high glucose levels may have an ill effect on brain development.
Researchers now plan to continue to study the same children in order to see if high blood glucose levels also affect cognitive function.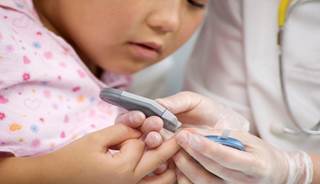 Type 1 Diabetes May Slow Brain Development in Children
Young children who have long-term high blood sugar levels are more likely to have slower brain growth, according to researchers at centers including the National Institutes of Health.
Researchers did not find significant cognitive differences between the healthy children and those with type 1 diabetes, but they believe a continuing study with the same groups of children may show changes there as well.
The findings could lead to a major shift in the way children with type 1diabetes are treated, said Dr. Karen Winer, a co-author of the study and a pediatric endocrinologist at the NIH's Eunice Kennedy Shriver National Institute of Child Health and Human Development (NICHD), which co-funded the 18-month study.
Next Article in Pediatric Neurology
Sign Up for Free e-newsletters
Check out what's trending
CME Focus