March 05, 2018
Despite Burnout, Neurosurgery Residents Still Satisfied With Career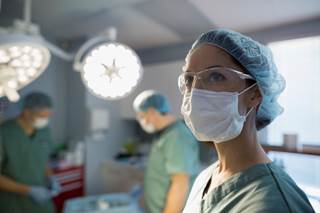 Even though burnout rates are high among neurosurgery residents, satisfaction rates are also high.
HealthDay News —Rates of burnout and career satisfaction are both high among neurosurgery residents, according to a study published online in the Journal of Neurosurgery.
Frank J. Attenello, MD, from University of Southern California in Los Angeles, and colleagues surveyed residents in the American Association of Neurological Surgeons database between June and November 2015. Eighty-six questions were used to assess burnout.
Based on 346 responses, the researchers found that 81% of residents were satisfied with their career choice, although 41% had at some point given serious thought to quitting. The overall burnout rate was 67%. Notable factors associated with burnout included inadequate operating room exposure (odds ratio [OR] 7.57; P =.011), hostile faculty (OR 4.07; P =.008), and social stressors outside of work (OR 4.52; P =.008). Meaningful mentorship was a protective factor against burnout (OR 0.338; P =.031).
"Rates of burnout and career satisfaction are paradoxically high among neurosurgery trainees," the authors write. "The documented negative effects of burnout on patient care and health care economics necessitate further studies for potential solutions to curb its rise."
Reference
Attenello FJ, Buchanan IA, Wen T, et al. Factors associated with burnout among US neurosurgery residents: a nationwide survey [published online February 9, 2018]. J Neurosurg. doi:10.3171/2017.9.JNS17996