June 13, 2017
Mortality Evaluation of PAP for Sleep Apnea and Pulmonary Embolism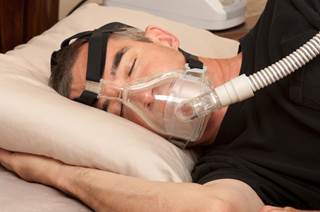 Positive airway pressure is typically used to treat sleep apnea and hypoxia.
Positive airway pressure (PAP) therapy does not improve outcomes in patients with both sleep apnea (SA) and hypoxia related to pulmonary embolism (PE), according to a study presented at the 31st Anniversary Meeting of the Associated Professional Sleep Societies, held in Boston June 3-7, 2017.
Researchers at Temple University and Thomas Jefferson University Hospital used the 2012 National Inpatient Sample database to analyze the in-hospital mortality with PAP therapy in patients with SA and PE. The study included 5376 patients with SA and PE, 461 of whom were using PAP, and 4915 participants who were not using PAP. PAP was administered to patients with a higher burden of comorbidities, and 212 patients died during hospitalization.
The results show that in-hospital all-cause mortality with PAP was 7.38% vs 3.62% without PAP, odds ratio (OR) 2.12, 95% CI 1.45-3.10, P <.001. The researchers noted in the study that the difference in mortality continued even after adjusting for the higher burden of comorbidities in patients with PAP.
"While PAP remains one of the most frequently used therapeutic modalities [in] SA, it does not appear to positively influence mortality in patients with concomitant PE," the researchers concluded.
Reference
Chatterjee S, Chakraborty A. Positive pressure ventilation does not improve outcome in patients with sleep apnea and pulmonary embolism: an analysis of the national inpatient sample database. Presented at: 31st Anniversary Meeting of the Associated Professional Sleep Societies. June 3-7, 2017; Boston, MA.