February 02, 2015
Pain in Older Adults Can Contribute to Insomnia
the Neurology Advisor take:
Musculoskeletal pain increases the risk of insomnia at three years; however insomnia may be avoided by improving social and physical function in older adults, according to a study published in Rheumatology.
Nicole K. Y. Tang, DPhil, of the University of Warwick, and colleagues, found that older patients with some or widespread pain showed any of each of four insomnia symptoms at three years, including nonrestorative sleep, waking up several times during the night, and trouble staying asleep.
Of the 6,676 participants 50 years of age and older, 26.5% had no pain, 46% had some pain, and 27.5% had widespread pain. In those with widespread pain, the effect of pain on the onset of insomnia symptoms was two-fold compared to those with some pain.
Logistic regression was used to examine the relationship between baseline pain and insomnia onset at three years and path analysis was used to test the mediating role of physical limitation and social participation.
After adjusting for age, gender, socioeconomic status, education, anxiety, depression, sleep and comorbidities, some [adjusted odds ratio (AOR) 1.57 (95% CI 1.15, 2.13)] and widespread [2.13 (1.66, 3.20)] pain increased the risk of insomnia at three years. A combination of physical and social limitations explained up to 68% of the effects of some pain on insomnia onset and 66% of the effect of widespread pain on insomnia onset.
The researchers recommend addressing physical and social limitations in order to reduce overall disease burden.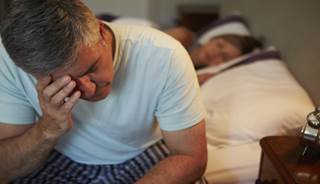 Pain in Older Adults Can Contribute to Insomnia
Pain, the most common manifestation of rheumatological conditions, is highly prevalent among older adults, with worse health outcomes found in those with co-morbid insomnia. Proactive prevention of insomnia may reduce the overall disease burden of pain and rheumatological conditions. To inform such development, this study examined the role of pain, physical limitation and reduced social participation in predicting and mediating insomnia onset.
A prospective cohort study was conducted involving 6676 individuals ≥50 years of age who completed questionnaires at baseline and a 3-year follow-up. Participants were classified into none, some and widespread pain according to the ACR criteria.
Next Article in Sleep Disorders
Sign Up for Free e-newsletters
Check out what's trending
CME Focus