April 03, 2015
Cytokine Levels in Chronic Fatigue Syndrome Explain Cognitive Problems
the Neurology Advisor take:
People with myalgic encephalomyelitis/chronic fatigue syndrome (ME/CFS) have a distinct pattern of immune molecules in their cerebrospinal fluid that may help explain the cognitive dysfunction associated with the condition, according to a study published in Molecular Psychiatry.
The study included 32 people with ME/CFS, 40 people with multiple sclerosis, and 19 healthy controls. The researchers used immunoassay testing methods to measure the levels of 51 cytokines in each participant's cerebrospinal fluid.
Participants with ME/CFS had lower levels of most cytokines, including the inflammatory immune molecule interleukin 1, compared with those with MS and the controls. Participants with ME/CFS and participants with MS had elevated levels of eotaxin compared with controls.
These results establish clinical criteria for the diagnosis of ME/CFS and create the potential for an objective, diagnostic test.
"We now know that the same changes to the immune system that we recently reported in the blood of people with ME/CFS with long-standing disease are also present in the central nervous system," says Mady Hornig, MD, of Columbia University's Mailman School of Public Health in New York. "These immune findings may contribute to symptoms in both the peripheral parts of the body and the brain, from muscle weakness to brain fog."
The researchers hope this will establish the potential for treatment options that target these cytokine levels.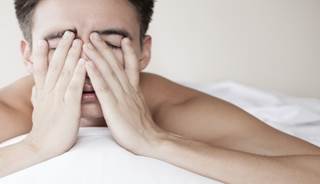 Cytokine Levels in Chronic Fatigue Syndrome Explain Cognitive Problems
Myalgic encephalomyelitis/chronic fatigue syndrome is an unexplained debilitating disorder that is frequently associated with cognitive and motor dysfunction. We analyzed cerebrospinal fluid from 32 cases, 40 subjects with multiple sclerosis and 19 normal subjects frequency-matched for age and sex using a 51-plex cytokine assay. Group-specific differences were found for the majority of analytes with an increase in cases of CCL11 (eotaxin), a chemokine involved in eosinophil recruitment.
Network analysis revealed an inverse relationship between interleukin 1 receptor antagonist and colony-stimulating factor 1, colony-stimulating factor 2 and interleukin 17F, without effects on interleukin 1α or interleukin 1β, suggesting a disturbance in interleukin 1 signaling.
Next Article in Sleep Disorders
Sign Up for Free e-newsletters
Check out what's trending
CME Focus