July 30, 2015
Clinical Evaluation, Pulse Ox More Efficient for Sleep Apnea Detection
the Neurology Advisor take:
Detecting obstructive sleep apnea may become more simplified and cost-efficient thanks to a clinical pathway evaluation and use of common in-hospital vital readings.
Sunil Sharma, MD, of Thomas Jefferson University, and colleagues implemented a clinical pathway evaluation in a study of 754 patients between February 2013 and February 2014. Upon admission, obese patients (BMI ≥ 30) were screened for sleep apnea with the snoring, tiredness during daytime, observed apnea, high blood pressure (STOP) questionnaire. If positive for sleep apnea, healthcare professionals were advices to perform follow-up evaluations, including polysomnography.
In all, 636 patients were classified as high risk for sleep apnea and 118 as low risk. Following discharge, 149 patients underwent polysomnography, after which 87% were determined to have sleep apnea. The researchers concluded that an optimal sleep apnea screening cutoff point was an oxygen desaturation index level of ≥ 10/h [Matthews correlation coefficient = 0.36, 95% confidence interval = 0.24–0.47]. Significantly more patients were identified to have sleep apnea and underwent polysomnography following the introduction of the clinical pathway evaluation than previous years.
The researchers stressed that overnight pulse oximetry to determine oxygen desaturation index may be a cost-effective method for screening for sleep apnea in admitted patients.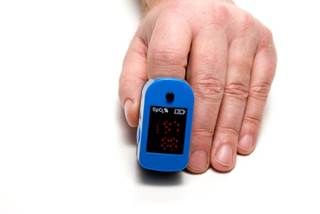 Clinical Evaluation, Pulse Ox More Efficient for Sleep Apnea Detection
Obstructive sleep apnea (OSA) is an important health problem associated with significant morbidity and mortality. This condition often is underrecognized in hospitalized patients. The aim of this study was to conduct a clinical pathway evaluation (CPE) among obese patients admitted to a tertiary care hospital. We also assessed oxygen desaturation index (ODI, measured by overnight pulse oximetry) as a potential low-cost screening tool for identifying OSA.
Our results indicate that the CPE increased the identification of OSA in this population. Furthermore, ODI derived from overnight pulse oximetry may be a cost-effective strategy to screen for OSA in hospitalized patients.
Next Article in Sleep Disorders
Sign Up for Free e-newsletters
Check out what's trending
CME Focus