March 24, 2015
An Hour Power Nap Can Boost Associative Memory
the Neurology Advisor take:
Getting some midday shut-eye could improve learning and memory by fivefold, according to findings published in Neurobiology of Learning and Memory.
Researchers from Saarland University in Germany found that sleeping for 45 to 60 minutes after a learning task improved associative memory in adults, similar to previous findings in infants. The subjects with improved memory also had a greater number of sleep spindles detected during EEG testing, which researchers believe play a role in forming memories.
Forty-one participants were shown a list of 90 single words and 120 unrelated word pairs and asked to learn them, and then immediately asked to complete a memory recall test. Afterwards, half of the participants were asked take a nap up to 90 minutes long, while the other half watched a DVD. Brain activity of the napping participants was measured with EEG to detect sleep spindles, which are bursts of activity in the hippocampus. Afterwards, participants took the memory test again.
Those who napped for 45 to 60 minutes performed five times better on the memory test than those who watched the DVD, scoring just as well on word-pair memory after the nap as they did immediately after learning the word pairs.
The results indicate that short periods of sleep may improve associative memory, but not item memory.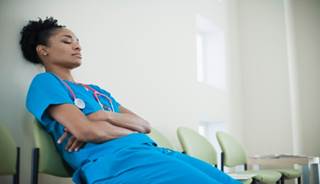 An Hour Power Nap Can Boost Associative Memory
Many studies have shown that sleep improves memory performance, and that even short naps during the day are beneficial. Certain physiological components of sleep such as spindles and slow-wave-sleep are thought to be particularly important for memory consolidation. The aim of this experiment was to reveal the role of naps for hippocampus-dependent associative memory (AM) and hippocampus-independent item memory (IM) alongside their corresponding ERP old/new effects.
Participants learnt single words and word-pairs before performing an IM- and an AM-test (baseline). One group was subsequently allowed to nap (∼90 min) while the other watched DVDs (control group). Afterwards, both groups performed a final IM- and AM-test for the learned stimuli (posttest).
Next Article in Sleep Disorders
Sign Up for Free e-newsletters
Check out what's trending
CME Focus