May 11, 2015
Childhood Sleep Disorders Raise Risk for Mental Illness
the Neurology Advisor take:
Young children that have trouble sleeping may portend psychiatric problems as they grow older, according to a study out of Norway.
Norwegian University of Science and Technology research conducted a survey of almost 1,000 toddlers. Diagnostic interviews of the parents were conducted at study beginning and two years later. Insomnia was diagnosed in 16.6% of the four-year-olds surveyed, and 43% of them still had insomnia as six-year-olds.
Four-year-olds with insomnia had a higher risk of developing symptoms of anxiety, depression, attention-deficit/hyperactivity disorder, and behavioral problems when they reached six years old compared to peers who slept normally, the researchers reported in the Journal of Developmental & Behavioral Pediatrics. And conversely, children who showed those symptoms at four years old were more likely to have insomnia when they turned six.
Despite the results, it is not clear whether insomnia cause psychiatric issues or psychiatric problems lead to insomnia, or both, according to the researchers. One explanation may be that insufficient sleep creates general functional impairment. Another is that sleep disorders and mental health issues share the same risk factors.
"Perhaps early treatment of mental health problems can also prevent the development of sleep disorders, since psychiatric symptoms increase the risk of developing insomnia," Silje Steinsbekk, PhD, a researcher at the university who worked on the study, said in a statement.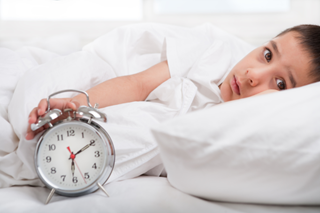 Childhood Sleep Disorders Raise Risk for Mental Illness
A new study from Norway suggests sleep disorders in young children can have lasting consequences.
Many a mother or father have been challenged by a toddler who takes a long time to go to sleep or one who wakes up many times during the night. Parents are often told that night waking is part of toddlerhood, and that it will soon pass on its own, but this is not the case for everyone.
Researchers at the Norwegian University of Science and Technology (NTNU) conducted a comprehensive survey of nearly 1,000 toddlers and discovered serious sleep disorders in young children can have long-term effects.
Next Article in Sleep Disorders
Sign Up for Free e-newsletters
Check out what's trending
CME Focus