July 28, 2017
Intensive BP Lowering Does Not Benefit ICH With Spot Sign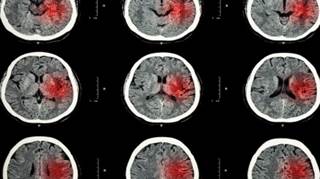 Spot signs on computed tomography angiography are indicative of active bleeding.
Intensive measures aimed at lowering blood pressure (BP) in patients with findings of a spot sign on computed tomography angiography (CTA) after intracranial hemorrhage (ICH) failed to show any significant benefit for improved outcomes, according to a secondary analysis of a large-scale randomized control trial reported in JAMA Neurology.1
Although investigators of the Spot Sign Score in Restricting ICH Growth (SCORE-IT) observational substudy of the Antihypertensive Treatment of Acute Cerebral Hemorrhage II (ATACH-II) trial did show that the spot sign predicted ICH expansion, it proved to be a less robust diagnostic marker than demonstrated by previous single-center cohort studies.2,3
The 2012 PREDICT trial, a retrospective and prospective study, showed that CTA spot sign was indicative of active bleeding and early ICH expansion.4 The SCORE-IT trial investigators were looking to validate this marker and identify whether aggressive BP reduction would improve outcomes in patients who have a positive spot sign on CTA.
The SCORE-IT study evaluated 133 patients (62.4% men; mean age, 61.9 years [standard deviation, 13.1 years]) from ATACH-II who were randomly assigned to receive either standard or intensive BP reduction therapy, with goals of <180 mm Hg and <140 mm Hg systolic BP, respectively, within 4.5 hours of ICH onset. Spot signs were found on the CTAs of 53 patients (39.8%), and 24 of 123 patients with complete data available had ICH expansion, defined as hematoma growth of >33%. Spot sign sensitivity to ICH was 0.54 (95% CI, 0.34-0.74), with a specificity of 0.63 (95% CI, 0.53-0.72).
Despite indications that spot sign was a good marker for patients at higher risk for ICH expansion, intensive BP therapy did not significantly reduce expansion risk (relative risk [RR], 0.83; 95% CI, 0.27-2.51; P =.74) and was not associated with improvement in outcomes measured by the 90-day modified Rankin Scale score ≥4 (RR, 1.24; 95% CI, 0.53-2.91; P =.62). The investigators reported that "no evidence suggested that patients with ICH and a spot sign specifically benefit from intensive BP reduction," and the ATACH-II trial was terminated early because of "futility."
The investigators identified potential reasons for the failure of BP intensive therapy in this cohort, which pointed to the possibility either that BP is not a real factor in hematoma growth or that CTA spot signs is an inadequate marker for patients most likely to benefit from therapy. A third explanation was that the study itself was underpowered to detect subtleties of risk and benefit. In an accompanying editorial, Jimmy V. Berthaud, MD, MPH, and Bradford B. Worrall, MD, were also unsure of the reason for the failure of the study, concluding that, "it appears that the spot sign is one of several factors that contribute to predicting hematoma expansion, and the story is likely to be more complex than previously hypothesized."
References