January 19, 2015
Carotid Artery Stenting Linked to High Mortality Rate
the Neurology Advisor take:
Carotid stenting is associated with a high mortality risk in Medicare patients, according to an analysis published in JAMA Neurology.
Researchers found that there was an alarming 32% mortality rate among those in the CMS carotid artery stenting database (CAS-D) from 2005 to 2009, while the CREST trial had an 11.3% mortality rate after two and a half years and the SAPPHIRE trial had a rate of 20% after three years.
Symptomatic patients aged at least 80 years had a 46% mortality rate two years after the procedure­ – the highest in the Medicare data group. The researchers noted that competing risks can limit the benefit of carotid artery stenting in older symptomatic patients who have high long-term mortality risks.
"It is tempting to conclude that the high mortality seen in the CMS stented cohort can be explained by a combination of advanced age and poorly controlled cardiovascular disease risk factors, as well as the inclusion of a sicker group of patients," wrote Mark J. Alberts, MD, of the University of Texas Southwestern Medical Center, in a review. "Indeed, this is the most likely scenario."
However, it's too early to rule out other possibilities such as how the stenting process could trigger a release of inflammatory or toxic factors that could influence the rate of cardiovascular events, including death. Of those included in the Medicare data, 85% listed either ischemic heart disease, heart failure or cancer as cause of death.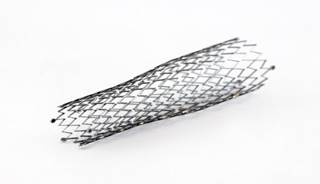 Carotid Artery Stenting Linked to High Mortality Rate
Carotid stenting was associated with much higher than expected 2-year mortality in the Medicare population, a national analysis found.
That rate was 32% in the CMS carotid artery stenting database (CAS-D) from 2005 to 2009, Soko Setoguchi, MD, DrPH, of the Duke Clinical Research Institute, and colleagues reported online in JAMA Neurology.
In the CREST trial, mortality was 11.3% after a median follow-up of 2.5 years. In SAPPHIRE, it was 20% after 3 years. The researchers concluded that those trials might have limited generalizability to the Medicare population and called for real-world effectiveness studies comparing the percutaneous treatment to surgery and to medical management.
Next Article in Stroke
Sign Up for Free e-newsletters
Check out what's trending
CME Focus