February 13, 2015
Epilepsy Drug Retigabine May Reduce Brain Damage in Ischemic Stroke
the Neurology Advisor take:
An FDA approved drug for the treatment of epilepsy may help reduce brain damage during ischemic stroke, according to a study published in the Journal of Neuroscience.
Retigabine (Ezogabine), an anticonvulsant that opens the brain's potassium channels to halt electrical activity of nerve cells, may help conserve resources until normal blood supply is returned to the brain after stroke.
In a mouse model of ischemic stroke, the mice treated with retigabine had no problems with balance or mobility compared to untreated mice, reported researchers from the School of Medicine as the University of Texas Health Science Center.
Ischemic stroke accounts for about 87% of strokes in the U.S., and can impair mobility, memory and cognition, speech, balance, and emotional expression, and can cause partial or full paralysis. Tissue plasminogen activator (tPA) is the only approved medication to reduce brain damage in ischemic stroke, however IV tPA cannot be used in many patients due to its strong blood thinning effects and severe side effects.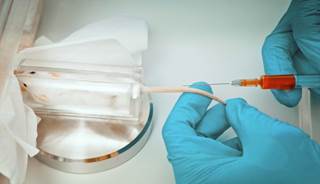 Epilepsy Drug Retigabine May Reduce Brain Damage in Ischemic Stroke
Stroke is a leading cause of long-term disability in the US, affecting more than 795,000 Americans every year. But according to a new study, a drug already approved to treat epilepsy may also be effective in reducing brain damage for individuals who have ischemic stroke - the most common form of stroke.
The research team, led by Dr. Sonya Bierbower of the School of Medicine at the University of Texas (UT) Health Science Center at San Antonio, publishes its findings in The Journal of Neuroscience.
Next Article in Stroke
Sign Up for Free e-newsletters
Check out what's trending
CME Focus