February 19, 2015
Hypertension Recommendations Forthcoming, but Controversy Persists
the Neurology Advisor take:
The American Heart Association and American College of Cardiology plan to update the JNC 7 recommendations for hypertension management in 2016, but the update won't come without controversy.
Release of an unofficial report on JNC 8 in 2014 generated some contention among health professionals, particularly for its adjustment of antihypertensive treatment thresholds from 140mmHg to 150mmHg for older adults and from 130mmHg to 140mmHg for people with diabetes or chronic kidney disease. A recent study presented at the International Stroke Conference 2015 found that poorer outcomes were associated with the change.
The guidelines, which will be known as the 2016 Guideline on the Management of Hypertension, will be reviewed by a separate evidence committee to address specific questions.
New lipid recommendations that eliminated LDL targets were released in 2013 along with a controversial cardiovascular risk calculator that has been the subject of much criticism and debate.
Partners on the forthcoming guidelines now include: the American Academy of Physician Assistants, the American College of Preventive Medicine, the American Geriatrics Society, the American Pharmacists Association, the American Society of Hypertension, the American Society of Preventive Cardiology, the Association of Black Cardiologists, the National Medical Association, and the Preventive Cardiovascular Nurses Association.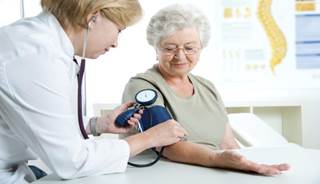 Hypertension Recommendations Forthcoming, but Controversy Persists
An update to the 12-year-old JNC 7 recommendations for hypertension management is underway and expected out in 2016, the American Heart Association and American College of Cardiology announced.
Those organizations officially took over the reins in 2013 on the suite of national cardiovascular prevention guidelines formerly managed by National Heart, Lung and Blood Institute (NHLBI) writing groups.
The last official report from the NHLBI Joint National Committee on Prevention, Evaluation, and Treatment of High Blood Pressure (JNC 7) came in 2003.
Next Article in Stroke
Sign Up for Free e-newsletters
Check out what's trending
CME Focus