May 02, 2017
Improving Stroke Diagnosis Accuracy: An Interview With David Newman-Toker, MD, PhD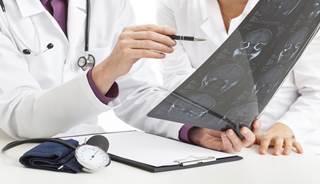 Up to 12.7% of hospital stroke admissions are misdiagnosed initially, according to a recent review.
In the United States, more than 12 million people receive an inaccurate medical diagnosis annually, and nearly every individual is likely to be misdiagnosed at least once.1,2 It is estimated that at least 40,000 to 80,000 deaths per year result from such errors, and 47% of hospital misdiagnoses lead to serious disability.3,4
More than half of malpractice cases pertaining to emergency departments (EDs) stem from diagnostic errors, and some findings indicate these may be disproportionately high for neurologic conditions, and especially stroke.5 Other research shows that misdiagnosis leads to death significantly more often with cerebrovascular events compared with myocardial infarction (45% vs 1%; P <.001).6
Although multiple studies have found elevated rates of stroke misdiagnosis, including a study from 2014 demonstrating that up to 12.7% of hospital stroke admissions were misdiagnosed initially, the precise numbers are unclear because of wide variation in reported rates.7 More accurate "estimates would help clarify the burden of harms from misdiagnosis and could help identify subgroups for which misdiagnosis-reduction interventions should be sought," wrote Alexander Andrea Tarnutzer, MD, from the University Hospital Zurich, Switzerland, and colleagues in a new article published in Neurology.8
To that end, they conducted a meta-analysis of 23 studies on diagnostic accuracy pertaining to ischemic stroke, transient ischemic attack, or subarachnoid hemorrhage, with a total of 15,721 patients. Their findings show that nearly 8.7% of cerebrovascular events are initially misdiagnosed in the ED, and rates are substantially higher for patients with symptoms that are:
Milder (subarachnoid hemorrhage with normal vs abnormal mental state; false-negative rate, 23.8% vs 4.2%; odds ratio [OR], 7.03; 95% CI, 4.80-10.31),
Nonspecific (dizziness vs motor findings; false-negative rate, 39.4% vs 4.4%; OR, 14.22; 95% CI, 9.76-20.74), or
Transient (transient ischemic attack vs ischemic stroke; false discovery rate, 59.7% vs 11.7%; OR, 11.21; 95% CI, 6.66-18.89).
To learn more about these results and how physicians might help reduce the frequency of such misdiagnoses, Neurology Advisor spoke with the study's senior investigator, David E. Newman-Toker, MD, PhD, professor of neurology, ophthalmology, and otolaryngology at Johns Hopkins University School of Medicine in Baltimore, Maryland; director of the Division of Neuro-Visual & Vestibular Disorders; and director of the Armstrong Institute Center for Diagnostic Excellence.
Neurology Advisor: What are the likely reasons for your finding that nearly 9% of patients with stroke admitted to the ED are misdiagnosed?
Dr Newman-Toker: The patients most likely to be misdiagnosed are those with atypical stroke symptoms. Most often these are common, nonlateralizing symptoms such as dizziness, vertigo, headaches, confusion, or decreased level of consciousness. Roughly 95% of patients presenting with such symptoms to acute care settings do not have strokes as a cause, so finding these strokes requires the ability to separate them from more common causes with high accuracy.
False-negative neuroimaging is more common than often imagined: computed tomography misses >80%, and magnetic resonance imaging misses 10-20% of acute ischemic strokes in the first 48 hours, especially with posterior fossa infarctions. Many of the bedside techniques to differentiate dangerous from benign causes (eg, vestibular neuritis vs cerebellar stroke) rely on tests unfamiliar to most emergency physicians and many neurologists, such as the head impulse test of vestibulo-ocular reflex function as part of the HINTS (Head-Impulse-Nystagmus-Test-of-Skew) bedside test battery.
Neurology Advisor: What is the potential effect of these inaccurate diagnoses?
Dr Newman-Toker: Patients can suffer harms from delayed or missed diagnosis through missed opportunities for acute stroke treatments such as thrombolysis, critical care management of delayed stroke complications, or early secondary stroke prevention. As a result, some patients are left dead or disabled. Disproportionately, these harms affect women, minorities, and especially younger patients. Patients aged 18-45 years are 7-fold more likely to be missed than those older than 75 years. One 18-year-old patient I know, for example, is still trying to recover from locked-in syndrome after his initial presenting symptoms of vertigo and vomiting from vertebral artery dissection were misattributed to recreational drug use.
Neurology Advisor: What can neurologists do to improve stroke assessment and avoid misdiagnosis?
Dr Newman-Toker: Most patients with stroke are never seen by a neurologist, so diagnosis relies largely on the neurologic diagnostic skills of frontline care providers. This means neurologists need to engage their emergency medicine colleagues, working together to identify protocols and pathways for when to trigger appropriate neurological consultation or initiate acute stroke therapies. It also means neurologists must play a critical role in directly educating frontline physicians and providing feedback when errors occur.
Neurology Advisor: What should be the next steps in terms of research in this area?
Dr Newman-Toker: Surprising as it may be, there is no systematic monitoring of diagnostic accuracy or missed stroke. The critical next step is to begin operationally monitoring our diagnostic performance in differentiating strokes from stroke mimics. This will facilitate further studies to identify causes, develop and implement systems solutions, and monitor impact of these interventions.
References
Singh H, Giardina TD, Meyer AN, Forjuoh SN, Reis MD, Thomas EJ. Types and origins of diagnostic errors in primary care settings. JAMA Intern Med. 2013; 173(6): 418–25. doi: 10.1001/jamainternmed.2013.2777
National Academies of Sciences Engineering, and Medicine. Improving diagnosis in health care. 2015; Washington, DC: The National Academies Press.
Newman-Toker DE, Pronovost PJ. Diagnostic errors: the next frontier for patient safety. JAMA. 2009; 301:1060– 2. doi:10.17226/21794
Leape LL, Brennan TA, Laird N, et al. The nature of adverse events in hospitalized patients: results of the Harvard Medical Practice Study II. N Engl J Med. 1991; 324(6): 377–84. doi: 10.1056/NEJM199102073240605
Troxel DB. Diagnostic error in medical practice by specialty. Accessed on 4/21/17 at http://www.thedoctors.com/KnowledgeCenter/Publications/TheDoctorsAdvocate/Diagnostic-Error-in-Medical-Practice-by-Specialty
Dubois RW, Brook RH. Preventable deaths: who, how often, and why? Ann Intern Med. 1988; 109(7):582–9.
Newman-Toker DE, Moy E, Valente E, Coffey R, Hines AL. Missed diagnosis of stroke in the emergency department: a cross-sectional analysis of a large population-based sample. Diagnosis. 2014; 1(2):155–66.
Tarnutzer AA, Lee SH, Robinson KA, Wang Z, Edlow JA, Newman-Toker DE. ED misdiagnosis of cerebrovascular events in the era of modern neuroimaging: A meta-analysis. Neurology. 2017; 88(15):1468-77. doi: 10.1212/WNL.0000000000003814