January 16, 2015
Microbleed After Ischemic Attack Predicts Recurrent Stroke Risk
the Neurology Advisor take:
Cerebral microbleeds detected with brain imaging are a predictor of recurrent stroke following a transient ischemic attack, according to a study out of South Korea.
Patients with cerebral microbleeds had three times the risk of having another stroke within 90 days of the original ischemic event. Still, the overall 5% rate of stroke recurrence within the 90 days was lower than what's been seen in previous studies, suggesting that early treatment lowers the risk of recurrent stroke.
Researchers from Seoul National University Boramae Medical Center identified 500 patients with transient ischemic attack (TIA) and evaluated their ABCD scores, which include age, blood pressure, clinical features, duration of TIA, and presence of diabetes in order to predict stroke risk. The median ABCD score among the subjects was four, indicating a moderate risk of stroke. The distribution was 29.0% (ABCD score 0-3), 52.4% (ABCD score 4-5), and 18.6% (ABCD score 6-7). Motor weakness and speech disturbance were most common among the patients.
Twenty-five patients had recurrent ischemic strokes within the 90-day period, 14 of which occurred in the first seven days. White matter hyperintensities (WMH) and microbleeds were both found to be significantly associated with recurrent stroke.
Of 150 patients with WMH, 8.2% had a stroke within 90 days compared to only 3.5% of the 341 patients that did not have WMH. Forty-three patients had cerebral microbleeds and 16.3% had a subsequent stroke, much higher than the 3.9% of the 457 patients that did not have microbleeds.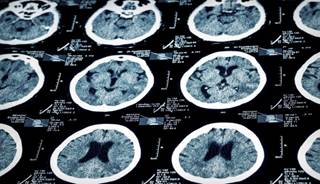 Microbleed After Ischemic Attack Predicts Recurrent Stroke Risk
The presence of cerebral microbleeds on brain imaging was found to be an independent predictor of early recurrent stroke following transient ischemic attack (TIA) in a prospective study of outcomes among patients treated at comprehensive stroke centers in South Korea.
Cerebral microbleeds conveyed a more than threefold increased risk for having a stroke within 90 days of the transient ischemic event, according to a Korean registry analysis.
The 5% overall rate of stroke recurrence during this 90-day window was lower than that seen in many previous studies, suggesting that optimal, immediate treatment lowers the risk of early stroke recurrence in this group.
Next Article in Stroke
Sign Up for Free e-newsletters
Check out what's trending
CME Focus