March 29, 2017
Hyperglycemia Linked to Infection, Worse Outcomes After Stroke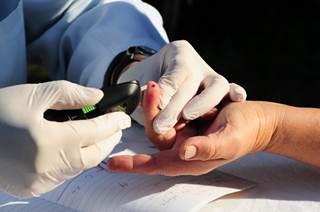 It remains unclear whether poststroke infection mediates the relationship between hyperglycemia and functional outcomes.
In nondiabetic patients with acute ischemic stroke, hyperglycemia at admission is associated with poststroke infection and worse functional outcomes, according to data published in Neurology.1
Previous research has shown that high blood glucose levels at admission are strongly associated with worse outcomes in several diseases, including acute ischemic stroke.2,3 Separately, poststroke infections have also been linked to worse outcomes. On the basis of these findings, investigators led by Thomas P. Zenneveld, MD, from the Department of Neurology at Academic Medical Center, Amsterdam, the Netherlands, hypothesized that hyperglycemia at admission was associated with poststroke infection, resulting in worse functional outcomes.
The researchers analyzed data from 2550 patients enrolled in the Preventive Antibiotics in Stroke Study. Among the 1676 patients with ischemic stroke who were not diabetic, 338 had hyperglycemia at admission. In multivariate regression models, hyperglycemia at admission was independently associated with poststroke infection (adjusted odds ratio [aOR], 2.31; 95% CI, 1.31-4.07), poststroke pneumonia (aOR, 2.54; 95% CI, 1.04-6.18), and poststroke urinary tract infection (aOR, 2.08; 95% CI, 1.09-3.97), as well as 3-month functional outcomes (common aOR, 1.40; 95% CI, 1.12-1.73) and 3-month mortality (aOR, 2.11; 95% CI, 1.40-3.19).
Poststroke infection, when added to the functional outcome analysis as a pathway between admission hyperglycemia and functional outcome, did not have a significant effect on 3-month functional outcome or mortality (common aOR, 1.37 [95% CI, 1.10-1.72]; aOR, 2.12 [95% CI, 1.36-3.31], respectively). Notably, hyperglycemia at admission in patients with diabetes mellitus (n=418) was not associated with poststroke infection (aOR, 0.49; 95% CI, 0.15-1.58).
Ultimately, the association between hyperglycemia at admission and worse functional outcome was greatest in patients with more severe stroke (National Institutes of Health Stroke Scale score, ≥6).
In their interpretation of the data, the researchers suggested that high blood glucose levels may "aggravate the already immunocompromised state of acute ischemic stroke patients." The researchers also noted that the low proportion of patients with poststroke infection in their cohort may have prevented the demonstration of a causal role for poststroke infection between admission hyperglycemia and functional outcome.
References
Zonneveld TP, Nederkoorn PJ, Westendorp WF, Brouwer MC, van de Beek D, Kruyt ND; for the PASS Investigators. Hyperglycemia predicts poststroke infections in acute ischemic stroke [published March 10, 2017]. Neurology. doi: 10.1212/WNL.0000000000003811
Kruyt ND, Biessels GJ, Devries JH, Roos YB. Hyperglycemia in acute ischemic stroke: pathophysiology and clinical management. Nat Rev Neurol. 2010;6:145-155. doi: 10.1038/nrneurol.2009.231
Capes SE, Hunt D, Malmberg K, Pathak P, Gerstein HC. Stress hyperglycemia and prognosis of stroke in nondiabetic and diabetic patients: a systematic overview. Stroke. 2001;32:2426-2432. doi: 10.1161/hs1001.096194