March 18, 2015
Thrombectomy in Myocardial Infarction Raises Stroke Risk
the Neurology Advisor take:
Compared with percutaneous coronary intervention (PCI) alone, patients who are also treated with thrombectomy have an increased risk of stroke, according to a study published in The New England Journal of Medicine.
Previously, the Thrombus Aspiration during Percutaneous Coronary Intervention in Acute Myocardial Infarction Study (TAPAS) associated thrombectomy with improved myocardial blush grade and lower mortality. Later meta-analyses suggested that thrombectomy increased the risk of stroke, but required a larger study to confirm. The researchers in this study wanted to see if they could confirm or deny the findings from those prior analyses.
The study, called the Trial of Routine Aspiration Thrombectomy with PCI versus PCI Alone in Patients with STEMI (TOTAL), looked at the outcomes of upfront manual aspiration thrombectomy compared with PCI alone. It included 10,732 patients with ST-segment elevation myocardial infarction (STEMI), 5,372 of whom underwent thrombectomy and PCI. The other 5,360 underwent PCI alone.
The primary outcomes were death from cardiovascular causes, recurrent myocardial infarction, cardiogenic shock, or new/worsening heart failure within 180 days. The key safety outcome was stroke within 30 days. The key net-benefit outcome was primary outcome or stroke within 180 days. The secondary outcomes were primary outcome plus stent thrombosis or target-vessel revascularization and cardiovascular death within 180 days.
The primary outcome rate in the thrombectomy group was 6.9% versus 7% in the PCI alone group; the secondary outcome rates were 9.9% and 9.8%, respectively.
In the thrombectomy group, stroke occurred in 0.7% of patients within 30 days compared with 0.3% of patients in the PCI alone group. After 180 days, 52 patients in the thrombectomy group experienced a stroke compared with just 25 in the PCI alone group.
These results indicate that compared with PCI alone, adding thrombectomy does not decrease the risk of any of the measured adverse effects, but actually increases the risk of stroke.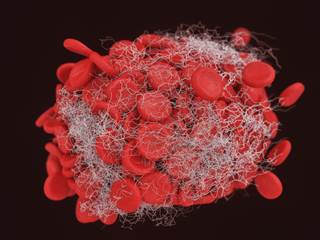 Thrombectomy in Myocardial Infarction Raises Stroke Risk
Primary percutaneous coronary intervention (PCI), when available, is the most effective method of achieving reperfusion in patients with ST-segment elevation myocardial infarction (STEMI). However, a major limitation of primary PCI is the possibility of distal embolization of thrombus and failure to restore flow at the microvascular level. Measures of microvascular tissue reperfusion, such as the degree of ST-segment resolution or angiographic myocardial blush grade, have been shown to predict the rate of death after primary PCI.
Removal of the thrombus by manual thrombectomy before stent deployment has the potential of reducing distal embolization and improving microvascular perfusion. Small, randomized trials of thrombectomy have shown improvements in markers of tissue reperfusion.
Next Article in Stroke
Sign Up for Free e-newsletters
Check out what's trending
CME Focus