October 16, 2014
Current Mild Traumatic Brain Injury Prognostic Models Unsatisfactory
the Neurology Advisor take:
Identifying risk factors for lingering symptoms in patients with mild traumatic brain injury (mTBI) is essential for early intervention, but current models may be unsatisfactory, according to a report from Medical News Today.
Hester F. Lingsma, PhD, of the Erasmus Medical Center, and colleagues found that current prognostic models for mTBI perform poorly, and the predictors for mTBI outcomes are different than those for moderate and severe TBI.
The study consisted of 485 patients with mTBI from TRACK-TBI Pilot, an unselected observational cohort of TBI patients from three centers in the United States. The researchers focused on two mTBI prognostic models: one based on the CRASH study data and another from Nijmegen, the Netherlands. They validated the models using the Glasgow Outcome Scale Extended (GOS-E) at 3 and 6 months after injury.
The researchers found that both models performed poorly (AUC 0.49 to 0.56). The strongest predictors of lower 3- and 6-month GOS-E scores were older age, preexisting psychiatric conditions, and lower education levels. Injury caused by assault, extracranial injuries, and lower Glasgow Coma Scores were also linked to lower GOS-E.
mTBI has different relevant predictors than moderate and severe TBI, and these predictors should be taken into account to develop a valid prediction model, the researchers suggested.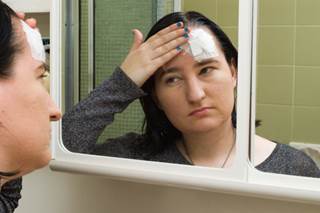 Current Mild Traumatic Brain Injury Prognostic Models Unsatisfactory
For the 5% to 15% of patients with mild traumatic brain injury (mTBI) who will have lingering physical, behavioral, or cognitive problems 3 to 6 months after their injury, identification of this at-risk population is essential for early intervention.
Existing models used to predict poor outcomes after mTBI are unsatisfactory, according to a new study, and new, more relevant predictive factors are different than those used in cases of moderate or severe TBI, as described in the study published in Journal of Neurotrauma, a peer-reviewed journal from Mary Ann Liebert, Inc., publishers.
Next Article in Traumatic Brain Injury
Sign Up for Free e-newsletters
Check out what's trending
CME Focus