November 18, 2014
No Post-Concussion Symptom Benefit with Hyperbaric Oxygen
the Neurology Advisor take:
Treating persistent post-concussion symptoms in U.S. military service members with hyperbaric oxygen showed no benefits compared with a placebo treatment, according to a study published in JAMA Internal Medicine.
Lead researcher R. Scott Miller, MD, of the Uniformed Services University of the Health Sciences, and colleagues found that although hyperbaric oxygen (HBO) did not perform better than the placebo, both of these treatment groups showed symptom improvement compared to a group that did not receive either of these treatments.
The study included three groups of participants: 23 patients who received routine post-concussion symptoms(PCS) care, 24 patients who received routine PCS care supplemented with 60, 40-minute HBO sessions, and 25 patients who received routine PCS care supplemented with 40 otherwise identical sham sessions in an air-filled chamber at a level that masked the pressurization process. The primary outcome measure was scores on a PCS questionnaire.
The researchers found no differences between groups for improvement of at least two points on the symptoms scale. However, compared with the no intervention group (average change score 0.05), both groups with supplemental chamber procedures showed improved symptoms on a total score (average change score 5.4 in the HBO group and 7.0 in the sham group). No difference between the HBO group and the sham group was seen.
In a related commentary, Charles W. Hoge, MD, of the Walter Reed Army Institute of Research, and colleagues wrote that, "Given the outstanding methods, consistency in results, and lack of dose response across these studies, it is increasingly hard to argue that a phase 3 trial of HBO for the treatment of postconcussion symptoms (or PTSD) is warranted."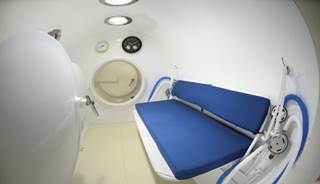 No Improvement in Post-Concussion Symptoms with Hyperbaric Oxygen
Improvement has been anecdotally observed in patients with persistent post-concussion symptoms (PCS) after mild traumatic brain injury following treatment with hyperbaric oxygen (HBO). The effectiveness of HBO as an adjunctive treatment for PCS is unknown to date.
This study consisted of a multicenter, double-blind, sham-controlled clinical trial of 72 military service members with ongoing symptoms at least 4 months after mild traumatic brain injury enrolled at military hospitals in Colorado, North Carolina, California, and Georgia between April 26, 2011, and August 24, 2012. Assessments occurred before randomization, at the midpoint, and within 1 month after completing the interventions.
Next Article in Traumatic Brain Injury
Sign Up for Free e-newsletters
Check out what's trending
CME Focus