July 13, 2015
Functional, Structural Differences in TBI, PTSD Detected with Neuroimaging
the Neurology Advisor take:
Although traumatic brain injury (TBI) and post-traumatic stress disorder (PTSD) are often comorbid, an imaging technique may help to differentiate them, ultimately making diagnosis and treatment more clear.
Single photon emission computed tomography (SPECT) has greater sensitivity and therefore can detect subtle changes and abnormalities seen in TBI and mild TBI — including perfusion deficits, diffuse axonal injury, and changes in functional anatomical connections — and PTSD, which may present with volumetric and perfusion changes in the amygdale, corpus callosum, insula, anterior cingulum, and hippocampus.
Daniel G. Amen, of Amen Clinics, and colleagues conducted SPECT scans on two large groups of neuropsychiatric patients and controls. Group 1 consisted of 104 people with TBI, 104 with PTSD, and 73 with both disorders, who were compared to each other and 116 healthy controls. Group 2 consisted of 7,505 patients with TBI, 1,077 with PTSD, 1,017 with both, and was compared to 11,147 with neither disorder. ROIs and visual readings (VR) were analyzed for sensitivity, specificity, and accuracy.
In Group 1, baseline and on-task ROI and VRs showed that SPECT had high levels of accuracy in differentiating PTSD, TBI, and PTSD+TBI conditions. The group, which was closely matched, was separated with 100% sensitivity, specificity, and accuracy for ROI and 89% of greater for VRs. While Group 2 had lower sensitivity, accuracy, and specificity, however rates were still clinically relevant.
Compared to patients with TBI, those with PTSD had increases in the limbic regions, cingulum, basal ganglia, insula, thalamus, prefrontal cortex, and temporal lobes.
"Research into the use of SPECT has demonstrated its clinical utility for both the improved detection of TBI and the delineation of the neural circuitry underlying PTSD, offering the potential of this modality to identify functional biomarkers useful in differential diagnosis," the authors wrote in PLoS One. "The question remains as to whether SPECT can distinguish PTSD from TBI or the comorbid presence of both. The ability to address this question is complicated by the differences between these conditions in military versus general populations which may be due to mechanisms of injury in addition to other factors."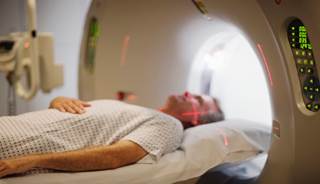 Functional, Structural Differences in TBI, PTSD Detected with Neuroimaging
Traumatic brain injury (TBI) and posttraumatic stress disorder (PTSD) are complex, commonly comorbid disorders in which clinical symptoms often overlap, creating challenges in diagnosis and treatment. Advanced neuroimaging techniques are providing insights into underlying pathological and physiological changes, and biomarker studies offer the potential to differentiate these disorders at acute stages, when interventions have the greatest potential to yield effective outcomes.
Structural imaging in acute TBI is indicated for the identification of skull fractures, contusions and bleeds, but computed tomography (CT) or magnetic resonance imaging (MRI) typically do not demonstrate the subtle abnormalities associated with TBI including perfusion deficits, diffuse axonal injury and alterations in functional anatomical connections.
Next Article in Traumatic Brain Injury
Sign Up for Free e-newsletters
Check out what's trending
CME Focus